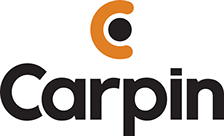 Twin Wheel Casters with Special Braking Options
Lever Brake for Twin Wheel Casters /
Office Chair Casters
The lever brake is the most common style of brake and simply consists of a lever which in the UP (unbraked) position allows the wheels to rotate freely, and in the DOWN position (Braked) causes the wheels to be locked and unable to rotate.
Friction Brake for Twin Wheel Casters /
Office Chair Casters
The friction brake, also called 'Up brake' or 'Auto brake' is a safety feature that prevents the caster from moving when no one is sitting in the chair, as its primary function is to provide wheel friction to prevent a chair from rolling away when the user stands up. An internal spring creates frictional pressure between the wheels and the caster housing to resist wheel rotation and prevents the casters from rolling freely. When someone sits in the chair, the friction is removed and the casters and chair can roll freely. This style of brake is less common than the lever brake
Sit Brake for Twin Wheel Casters / Office Chair Casters
The sit brake, also known as the "Loaded brake" is a safety feature that causes the caster brake to be 'loaded' when a person is sitting in a chair or standing on a stool. At this point, the brake engages and prevents the caster from rolling. This is achieved by either a fixed peg that makes contact with the floor when weight is applied to the caster or by a frictional contact between the wheel and housing that occurs when weight is applied. This type of brake is useful for applications where the user may be applying force against a table while working and does not want the chair to roll away, or in cases where the user is standing on a rolling stool and wants the stool to remain fixed in place while standing on the stool.
In addition to the caster braking options shown above, Carpin can customize a solution to meet your specific application requirements. Please contact us today to learn more.
Related products:
Furniture Casters
Dual Wheel Casters
Plastic Wheels
Chair Wheels
Carpin Manufacturing, Inc
411
Austin Road • P.O. Box 471 • Waterbury CT 06720
Tel: 203-574-2556 www.carpin.com